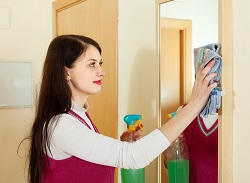 Keeping a home clean and tidy can be difficult with kids running about leaving toys and tiny shoes behind every corner. There are ways in which to help maintain a clutter free home, you just have to know the best secrets and tricks of the trade which is why these 10 cleaning tips will make your life so much easier and your home completely spotless (for the most part).
1. Clean Windows
Clean windows will make a huge difference to your home and will send rays of bright light flowing throughout your entire house. Use window cleaning spray and wipe horizontally and vertically with a microfiber cloth for best results. Don't forget to open the windows in the bathroom to reduce the presence of mildew growth.
2. Use Dividers
Drawers and cupboards can really benefit from dividers to help organise stationary, mail and small pieces of clothing such as socks and vest tops. Use old cereal boxes as dividers by cutting them and placing them in your drawer. This is a great way to encourage the rest of the family to recycle which is an added bonus.
3. Dust-Free Carpets
Many cleaning services offer professional carpet cleaners to leave all of the rugs and carpets in your home dust free. A clean floor will instantly make the room seem tidier so make sure to clean the carpets regularly.
4. Install Shelves
Home cleaning can be made easier if you have more space to store your belongings. Shelves are incredibly useful, particularly for children's bedrooms to store their books and toys in a neat and tidy manner.
5. Magnetic Strips
If your home seems covered with hair clips, tweezers, nail clippers and other tiny items without a storage place you are in need of a handy magnetic strip in the bathroom. This will finally provide a place for all of those little things and one in the garage will be able to hold your nails, screws and bolts so that you can easily find them again once you need them.
6. Clear Countertops
Kitchen counters seem to accumulate random items over time which can get in the way of preparing dinner and entertaining guests. Make sure that your countertops are clean, wipe them with disinfectant regularly to maintain a safe cooking environment.
7. Clean Upholsteries
Sofa cleaning is sometimes necessary once your furniture has lost its initial gleam. You can buy cheap upholstery cleaning products and use them to revitalise your sofas so that your family has a nice clean place to put their feet up.
8. Donate Old Books
If your home is cluttered with dozens of old books, CD's and DVD's you may want to donate them to charity. This not only helps you with the house cleaning but will provide those in need with things that they cannot afford to buy brand new.
9. Storage Boxes
Storage boxes and transparent plastic boxes are ideal for home storage as they can hold plenty of weight whilst freeing some much needed space in your home. Once you have fully stocked the boxes with items that you don't need at the moment, you can store them away safely in the attic or in the garage until a time when they are needed.
10. Clean Closet
Our closets tend to become packed with clothes, shoes and extra handbags until there is just no room to store it all. You could hang two pieces of clothing on a single hanger and use a shoe rack to store your shoes.
You may also like: